Let's start singing!
In this first tutorial we'll get you ready to go with Sing & See.
By the end of the tutorial, you will have downloaded, installed and started to run Sing & See on your computer. And we'll help you get your microphone set up so you can start on some singing exercises.
Then we'll start the first part of a journey in being able to really see what your voice is doing on screen – which will help you make progress in working on the quality of your voice and performance as a singer. This week we'll focus on the pitch of your voice – matching it to the keyboard notes and working on the steadiness of your pitch. Sing & See will help you visualize your strengths and weaknesses.
What you need
Here is what you need to start using Sing & See:
A computer.

For Windows the computer requirements are Windows XP SP3, Vista, or Windows 7 (Windows 8 is also ok)
For Mac, you need Mac OS X 10.6, 10.7, or 10.8

A microphone. It's best to plug in a hand held or headset type of microphone. The software will work with your laptop's built-in microphone but not so well – it might suffer from glitches and noise, which might affect the readouts on the screen.

If you have a"Professional" audio interface you might need to adjust its settings to work properly with Sing & See – check the FAQ page here

A singing voice – provided by nature. Now you're ready to go!
What to do
Install Sing & See on your computer.

On Windows, just run the install file that you have downloaded or got as part of the CD ROM and follow the step-by-step instructions
On Mac, open the downloaded disk image (.dmg file) and drag the Sing & See App into the Applications folder.

Run the Sing & See program. It should start up on its own and open to a page allowing you to register. Click on the button "Run in Trial Mode", and then you will be on the main page as below:

Sing & See pitch display (as available on Student Version and also as one of the display modes on the Professional Version). Click on the "Record" button to begin recording your voice.

Check that your microphone is working

Click on the red "record" button then sing into the microphone.  You should see some action on the display!
 If you don't see the level meter filling with a colour bar, then you'll need to check that your microphone is working. Is it plugged in? Is it switched on? Are your microphone settings correct? If it's still not working it could be a problem with the actual mic and not the program. Check the FAQ page here.
Let's exercise!
Now you're ready to sing! It's probably best not to go in cold. Just like exercising, it's a good idea to warm up before you start something strenuous.
Use Sing & See to help you warm up. Sing a few notes and watch as the display responds to your voice. It maps out what your voice is doing in three different ways:
On the keyboard, the key that corresponds to the note you're singing will light up in red
The note you're singing is displayed on the music stave (bass or treble)
As you sing, a line appears on the large display which shows how your pitch changes over time.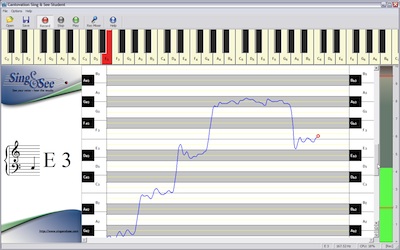 You can use all three displays to see how your voice works in a musical framework, and to evaluate your performance.
Match a note
Now that we're all warmed up and ready to go, try matching a note with your voice. What we're aiming for is to get the note as close as possible to the middle of the note. Since the voice is an organic instrument, this is tough to do, because unlike playing an electric keyboard (for example), it will fluctuate. A little fluctuation isn't bad, but in general being as 'true' as possible to the note will make you sound good.
To do this, first play the keyboard on Sing & See. You should hear the note in your headphones or on your speakers. If you don't, check the audio troubleshooting guide.
Now sing. Make sure you've pressed "record" so you can replay what you've done later.
Try another note. You can see how steady your pitch is by looking at the Pitch Line – it should be relatively flat and smooth. Again, because the voice is an "organic" instrument, it will have natural variability and so there will be little bumps.
By looking at where the note is on the Pitch Line, you will be able to see how flat or sharp you are. If you are flat you will be at the bottom of the line (or under it), and if you're sharp you'll be at the top (or above it).
Next session… tomorrow
That's all for the first lesson.  We'll be back tomorrow with details of more features and suggested exercises for improving your tunefulness!
If you are having any trouble getting the sound to work, visit our audio troubleshooting guide, and if this doesn't help, don't hesitate to contact us – almost all problems with sound recording or playback are solvable!
Happy singing!